One measure of market volatility is drawdown – the percentage drop between a peak and subsequent trough of an individual security or market index. In March 2020, the S&P 500 index experienced a drawdown (or decline) of nearly 34% – one of the largest declines in recent history.
After that tremendous turmoil, equity markets were due for a bit of a respite. But now the subsequent calm is beginning to push historical norms as well.
The "average" drawdown of the S&P 500 since 1950 has been a little over 9%. If we assume that anything less than half of that number, 4.5%, is a 'calm' market, it's easy enough to look back and see how long it's been since we've exceeded that threshold.
The answer is that it's been 186 market days (215 calendar days) since the S&P 500 has been down more than 4.5% – that's nearly 10 months. That calm streak was previously exceeded when the S&P 500 went from November 2016 until February 2018 – a streak of 452 calendar days. Before that, you'd have to look back more than 20 years, all the way back to April of 1996 to see a longer period of low drawdown.
With all that we have been through in the last year and a half, we have earned a good pause. And while there's no way to know how long this market calm will last, it's certainly enjoyable right now.
For those of you who have discovered that you like (or would like) life in the calm lane, consider giving us a call at VMI. We can tell you more about some low volatility investing strategies that can make less stressful investing a more regular occurrence than just a few times each decade.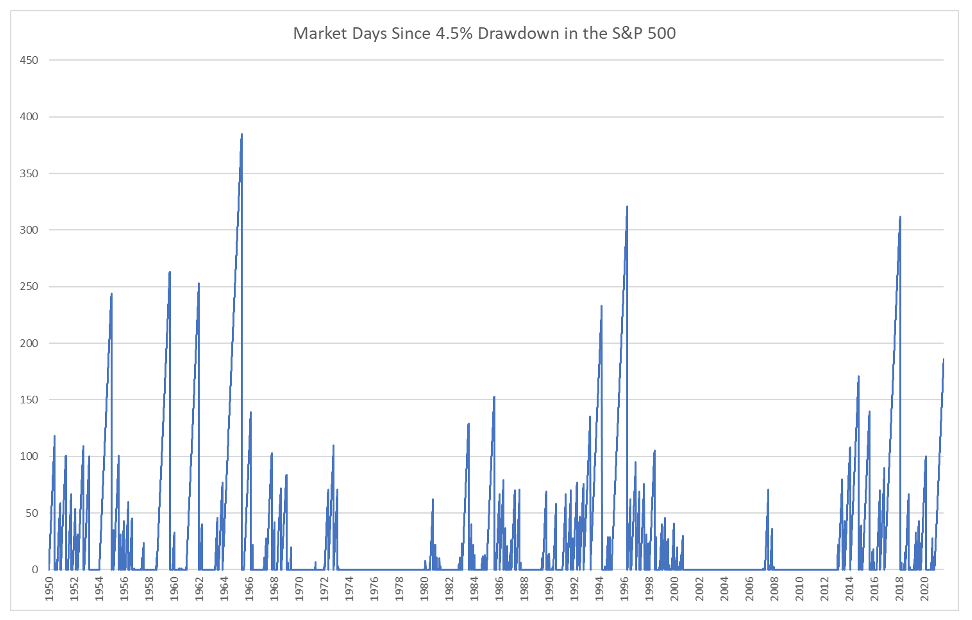 Sincerely,

Jim, Mark, and Dave


P.S. To set up a time to speak with a financial advisor, click on the calendar app below, or go to ValueMonitoring.com/Welcome.