Is inflation turning into a problem?
No, it is not, at least according to the government's metrics. The most recent April data release shows that the Consumer Price Index (CPI) has risen 2.62% over the past 12 months. This is towards the upper end of the range that we've seen over the past ten years, but it's a far cry from the high inflation rates of the 1970's and 1980's where it sometimes exceeded 10%.
While this may be somewhat comforting, bubbling under the surface there seems to be more inflation pressure than is apparent in the official statistics. Real estate prices are rising substantially in many areas. And take a look at the chart below; if you buy gas for your car, heat your home, eat pork, beef or anything made from corn, wheat or soybeans then you're paying more, much more than you were six months ago.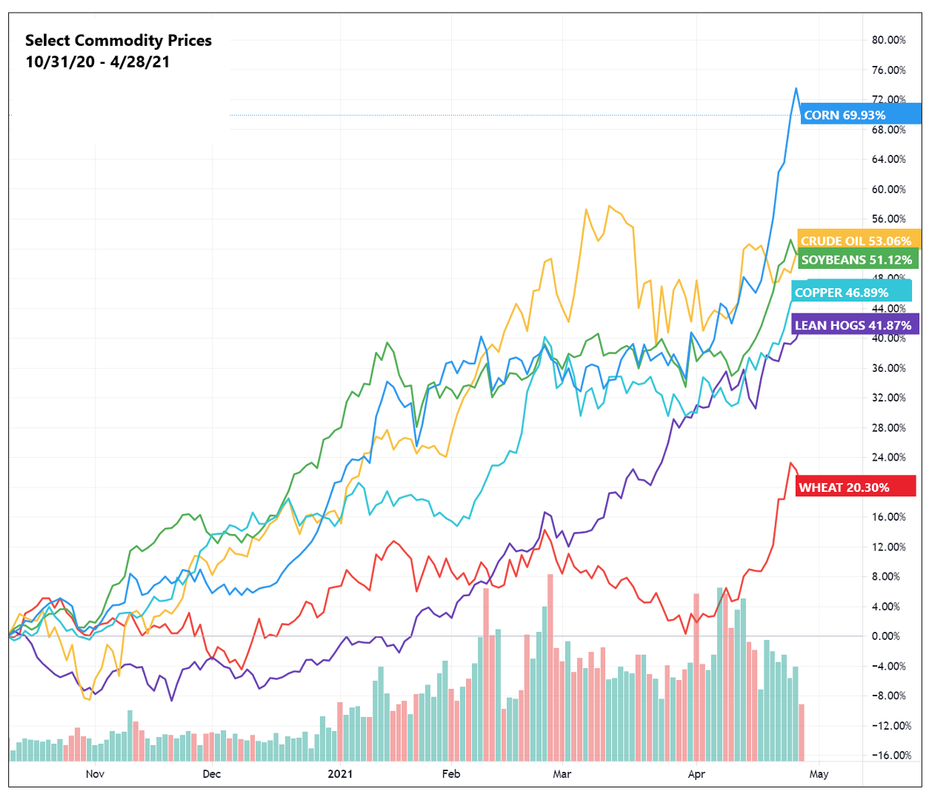 In addition to rising prices in many sectors, we have extraordinary deficit spending and super low interest rates. Something will have to give before too long. It seems like only a matter of time before inflation is sufficient to indicate on the government CPI metric, On the local front, even Value Monitoring's own highly-technical CPI (Chicken Parmesan Index) is starting to soar; let's hope things don't get any worse.
Have a great weekend!
Sincerely,
Jim, Mark, and Dave

p.s. To speak with a financial advisor, click on the calendar app below, go to ValueMonitoring.com/Welcome.